Untitled Norwegian amateur chess player Victor Havik found and amazing way to draw a game against one of the strongest chess players in the world today in the third round of the 8th Gibtelecom Masters
.
Here is the position on the board when Victor (playing the black pieces) decided to play an amazing move which draws the game, can you find the move?
The Answer is below: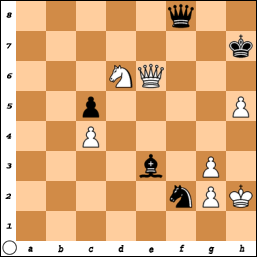 Victor found the move 61....Qxd6!! which draws.
The game continued:
6
2.Qxd6
62...Ng4+ 63.Kh3 Nf2+ 64.Kh2 Ng4+ 65.Kh3.
If 65.Kh1,then playing 65...Nf2+,would allow Havik to achieve a draw by perpetual check.If white tried to avoid this draw and by moving his king by playing a move like 66.Kg1?? then Black would win by playing 66...Ne4+, winning the queen. The actual game continued:
65...Nf2+ 66.Kh4.

66...Bg5+!! ½–½.
Now White would have to play 67.Kxg5, however after the move 67...Ne4+ the white king and queen are forked! If then 68.Kf4 Nxd6 69.Ke5 Nxc4+ 70.Kd5, the king captures the pawn and the result of the game would be a draw! Victor was playing Grandmaster
Bulgarian GM Ivan Cheparinov in this game.
source:
http://www.chessbase.com/newsdetail.asp?newsid=6098
Beautifully played Victor! Deceased GM David Bronstein would be proud of
you.I say this because Bronstein stated the following when he was living:
"Chess is imagination"