"Researchers probing pitch-black waters from the Antarctic to deep seas off Iceland say they have catalogued about 5,700 marine life forms that have never seen light, with some being new to science.

The data, part of the ongoing Census of Marine Life project, stunned some of the international scientists who say the unexpected finds show how poorly understood the deep seas are and how much more there could be out there."


"It really illustrates just how little we know about the deep ocean and how species-rich it is," Paul Snelgrove, a marine biologist at Memorial University in St. John's, N.L., said before the release of the findings Sunday.

"The fact that they're so pervasive is really the exciting thing." "


"Odd Aksel Bergstad of the Institute of Marine Research in Norway said they discovered 1,000 species in an area between Iceland and the Azores and suspects at least 40 are new to science.

"We were surprised to find so many big animals," he said from Oslo, referring to large squid and fish species.

"That's not so common anymore. We thought we were getting to the level of knowledge that we wouldn't find so many."

Of the close to 700 crustaceans found to the southeastern Atlantic, 99 per cent are thought to be new discoveries."

Source:http://www.ctv.ca/servlet/ArticleNews/story/CTVNews/20091122/new_species_091122/20091122?hub=SciTech
Source of image:Credit: David Shale, MAR-ECO, Census of Marine Life

-------------------------------------------------------------------------------------------------------------------------------------------------------------------






Source of image of Magellanic penguins:http://www.coolantarctica.com/gallery2/birds_images/magellanic_1000_group1.jpg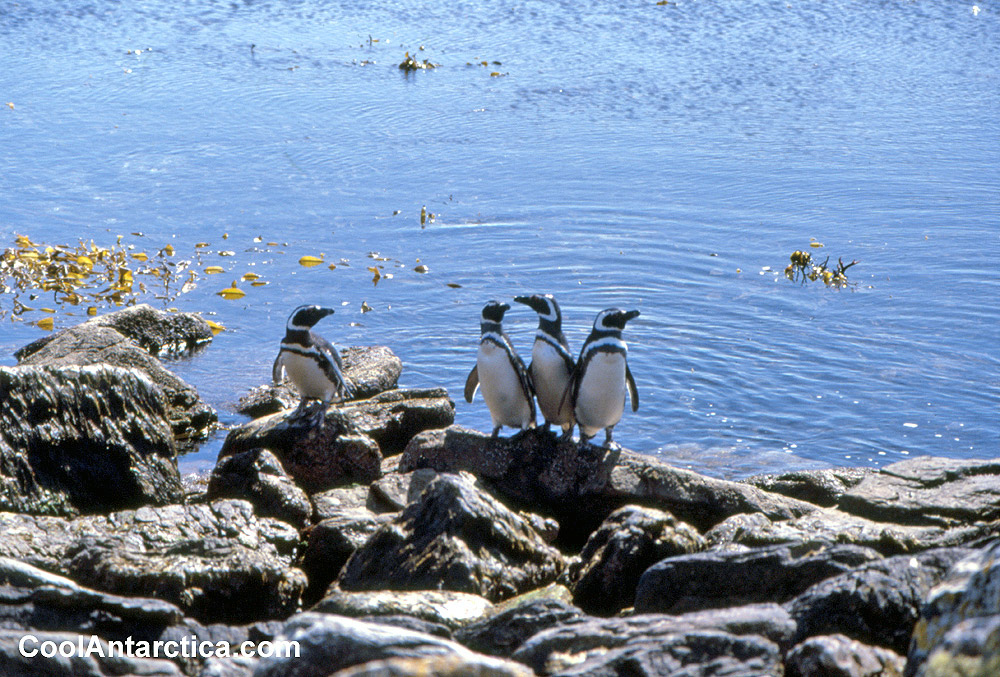 Magellanic penguins huddle on a rocky ledge on Magdalena Island in Chilean Tierra del Fuego. The island, home to one of Chile's largest Magellanic penguin breeding colonies, is a national nature reserve, and commercial fishing there has been banned to preserve the penguins' food source.
It must be fascinating work to be an oceanographer or marine scientist . However, it is also dangerous work,having to dive into the murky depths of the ocean,possibly encountering life which could be hostile to humans. We humans seem to need the presence of light constantly or else our mood and psychological state
suffers. Yet, in direct contrast to our species,we now know that certain species of life exist for most of their lives in
partial darkness or complete darkness. Scientists will only be able to keep finding these new species of life in the dark depths of the ocean, if the oceans remain in an ecologically-livable state. And it is us human beings who have caused the most damage to the oceans of the world. Human beings must change our view of our
position on the planet. These life forms have as much right to live on the planet as we do.Unless humans quit
exploiting the oceans,the likelihood of finding new life in the oceans, much less any life at all, will be greatly diminished.
News this fall that the oceans have experienced their warmest temperatures ever, news that "oil pollution, depletion of fisheries and rampant coastline development threatens breeding habitat for many penguin species, and are leading to rapid population declines among penguins are deeply troubling to me. According to the website: http://www.uwnews.org/article.asp?articleID=42685, " penguins serve as sentinels for the radically changing environment." Scientist Dee Boersma, who for 25 years, working with the Wildlife Conservation Society and UW colleagues, has studied the world's largest breeding colony of Magellanic penguins at Punta Tombo on the Atlantic coast of Argentina asserts that the population of Magellanic penguins probably peaked at about 400,000 pairs between the late 1960s and early 1980s,, however today the population is just half that total.

There are similar stories from other regions. African penguins decreased from 1.5 million pairs a century ago to just 63,000 pairs by 2005. The number of Galapagos Islands penguins, the only species with a range that extends into the Northern Hemisphere, has fallen to around 2,500 birds, about one-quarter what it was when Boersma first studied the population in the 1970s.

As the world's population continues to explode and more and more people live in coastal areas, the negative effects are growing for both marine and shore-based habitats used by a variety of species. There is an urgent need to begin monitoring those negative impacts, Boersma said.

Dr. Boersma, who is a University of Washington biology professor and an authority on the flightless birds, was quoted as stating: "I don't think we can wait. In 1960 we had 3 billion people in the world. Now it's 6.7 billion and it's expected to be 8 billion by 2025," she said. "We've waited a very long time. It's clear that humans have changed the face of the Earth and we have changed the face of the oceans, but we just can't see it. We've already waited too long. "